Little Miss Sunshine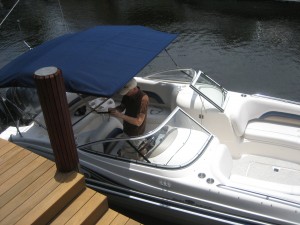 Last May we bought our first[1] boat.  It is a Hurricane Sundeck 24, with a 250 HP Yamaha outboard.  Despite its ability to do 45 knots and pull water skiers with ease, we spend 98% of the time doing 4 knots.  Why?  Two reasons.  The first is that we live on an ocean access canal with a 'no wake' speed limit; the second is that we mainly use the boat for sunbathing and going to waterfront restaurants.  The speed limit is to protect the manatees that frequent the canal.  (More of those in a future post).  But I digress.
A regular source of family discussion has been a potential name for the boat.  We've been looking for something that reflects the Florida lifestyle, is neither too macho nor too girlie, and won't be too embarrassing when used in a mayday call.
We looked for inspiration at other boats on Lake Boca.  Punning seems to be the most common source of boat names, with such witticisms as 'Weather Oar Knot' and 'Boat Tox'.  Suggestions for our boat included 'Lazy Dayz', 'Blue Days', 'Blue Bell', 'Sun Bunny' and 'Blue Breeze'.
We have finally settled on 'Sunshine'.  Not exactly uncommon (as a name or as a weather phenomenon) but we like it.
[1] First as in 'first and only' not first as in 'and now we have eight'.