Window (and door) shopping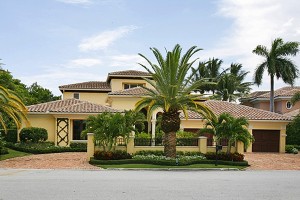 What is the fascination with looking at things that are way beyond one's purchasing ability?  We spent the afternoon with a couple of hundred other people gawking (snooping?) around properties in Royal Palm Yacht and Country Club, "the most sought after location in Boca Raton".  Every year, most of the properties for sale are subject to a grand free-for-all open house event.  This year, 44 properties ranging from $765,000 to $9.75m were thrown open.
At the lower price, the expectation is that the new owner will drive a bulldozer straight through the front wall and erect something new.  At the high end – well, who cares?  8000 sq ft under air, 6 bedrooms, 8.1 baths (what is 0.1 of a bathroom?).  The guest wing (yes, wing) is bigger than our house.  His and her bathrooms each several hundred square feet in size.  You could live in the house for a year and never bump into the other residents.
The surprising (and pleasing) thing was that after seeing eight or so properties all listed at over $4m we decided that despite their high ceilings, Sub Zero fridges and opulent furnishings we rather prefer our little home.   It might not have a club room with a billiard table and triple flat panel TV arrangement, but it doesn't have a $100k per year property tax either.