Favourite iPhone App #3: #RedLaser
Today's recommended app is RedLaser. It is a simple idea brilliantly executed (at least on the 3GS). Launch the app, point the camera at a UPC barcode and the app gives you an instant price comparison.
Negative comments in the app store seem to be from 3G users who can't benefit from the 3GS autofocus camera. I've had no problems reading barcodes with my 3GS.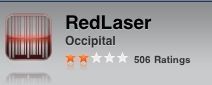 Screenshots: