How-to: avoid excessive international roaming data charges on iPhone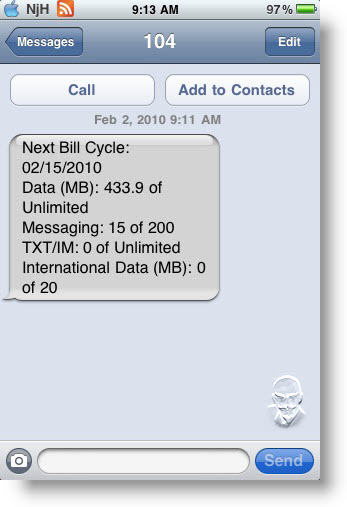 AT&T has a number of international roaming data plans, ranging from 20MB/month to 200MB/month.  The plans are bizarrely excessive and the overage charges even more so, so you really need to monitor your data usage carefully when travelling.  AT&T recommends that you use the iPhone usage information (Settings/General/Usage) to do this.
On a recent trip to the UK I purchased the 20MB package and carefully monitored my usage to stay within the limit.  Despite this, when I returned my bill said I'd used 23.3MB and they stung me an extra $29 for the 3MB overage – which was more than the cost of the original 20MB!!  I've heard other people have had similar issues.
According to AT&T, despite their recommendation to use the iPhone usage meter as your gauge, the 'approved' way of checking usage is to phone '*data#' (*3282#) when you are travelling.  This will send a text back to your phone like the one shown on the right.  They assure me that, even though you are abroad, you won't get charged for the international text message.  My next trip starts today.  We shall see if they are right.